We are pleased to announce the first half of our participants for elmspring 2016! This session started on July 25, 2016, and will welcome eleven new startup companies in total.
Our aim of supporting disruptive technology in real estate continues with the upcoming cohort. In addition to the support offered in previous years, this year will include changes to the program aimed to further their growth.
The 2016 elmspring Session is not only going to be our largest cohort to date with 11 companies but will also expand to include investor relations in the last month of the accelerator. We continue to improve the experience for our elmspring portfolio.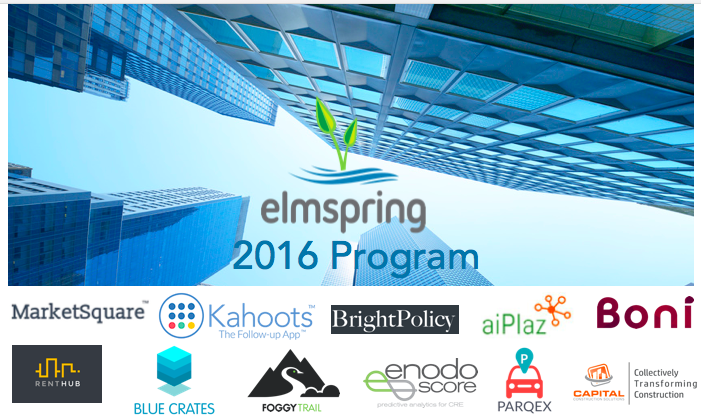 Here is a bite-sized look at our first five companies:
MarketSquare: MarketSquare is an end-to-end marketplace for furniture and home decor, bringing digital innovation to the traditional furniture consignment business model.  MarketSquare's online-first approach provides both buyers and sellers increased transparency, efficiency and overall value. Focused on the Chicago market, MarketSquare serves customers within 50 miles of the city.
Enodo Score: Endo Score is a predictive analytics platform for the commercial multifamily real estate industry that objectively measures the investment grade of multifamily properties. Analyzing real-time data from public and private sources, Enodo Score's machine learning algorithm untangles each of the factors that drive returns in multifamily investments—helping users determine how aspects like renovations, competing developments, proximity to public transportation, the addition of a pool or job growth rates will affect investment returns in every market across the U.S.
Kahoots: Kahoots is the creator of the Kahoots App, a digital assistant for the modern realtor. The app saves realtors time by qualifying leads and smartly routing them to significantly decrease follow-up time from hours to less than five minutes. It integrates with existing CRM and lead systems and provides brokerages with analytics on new lead follow-up and ensuring existing clients get personal check-ins from agents.
Capital Construction Solutions: Capital Construction Solutions (CCS) is a knowledge sharing platform to mitigate risks in construction. CCS has created a safety mobile application (CCS Safety) that reviews a list of 7,000+ best practice safety questions depending on the category of work (180+ categories) being performed. In addition, the command center website allows companies to tie together all Apple and Android devices into a single safety enterprise reporting tool. Their goal is to ensure a safe workplace and provide a quantitative and intuitive tool for all employees. CCS will be developing 17 more applications to eliminate friction points in the construction industry by the end of 2018.
Blue Crates: Blue Crates provides an on demand storage and moving solution. With a technology enabled platform that allows users to catalog and recall their items from the comfort of their homes, Blue Crates allows users to store and move their things on demand without lifting a finger. Blue Crates provides affordable convenience and helps customers extend their closets and reclaim their space without the hassle of having to use a traditional self-storage unit.
Tom Bretz, co-founder of elmspring , says of this upcoming class, " We are excited to see how this cohort will fare in the start up world. Our commitment to growing companies in the real estate industry continues to touch many aspects including logistics, data, and the construction field."
We welcome our teams into the elmspring offices this summer and can't wait to see them grow!
More to read: What You Should Know About Sydney Off Market Properties